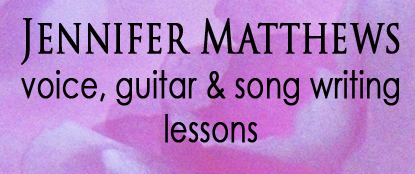 The earliest memory I have of singing on stage was at age 7. I remember it being a magical experience and one that stuck with me through my young years. As I grew up, I continued singing on stages and eventually I went to college for it. I was a Vocal Performance Major at the University of Colorado's school of Music and then went on to study with a pro New York City vocal teacher at Mason Gross School of the Arts at Rutgers. The technique I learned at those universities has carried me through my lifetime as a performing/touring/recording artist and vocal, guitar and songwriting teacher.
I truly love what I do as a teacher and take great pride in working with my students individually to set up the best learning program suited to their specific needs and abilities.
Here are some examples of the work I have achieved both as an artist and music teacher:

ACCOMPLISHMENTS
Released 8 albums of my original music, one children's record with voice and songwriting student Kyle Davis entitled Under the Sea and one single with student, Madison Drewry entitled Goodnight, Goodnight. Released a live DVD recorded in Rome, Italy. Lead singer for Rome, Italy's Six Days on Mars with a current (2016) album release entitled Space Age Radio.


Multiple international music tours including: USA, Alaska, Switzerland, Italy, England, Hawaii, Japan and Korea.


Co-wrote, produced and recorded original demos and releases for my students. Collaborated, co-wrote and released a single with world acclaimed poet Doug Holder entitled "Oh Don't, She Said".


My original song "Lemon Peels and Tangerines" placed in CW Hit TV series The Gossip Girls.


My original song "Brother" placed in Spy the Movie Soundtrack.


My original song "The Wheel" won Award of Achievement from Billboard Music Magazine.


Archived at the libraries of Harvard, Buffalo and Brown Universities.


Nominated for an Emerging Artist grant from Boston's St. Boltolph Foundation for Artists.


Invited to be the lead singer for a USO Band and entertained the troops in Japan, Korea and Hawaii.


Guest Lecturer at Endicott College and Bunker Hill Community Colleges lyrical creative writing classes.